谷胱甘肽S转移酶π1(GSTp)活性蛋白
Active Glutathione S Transferase Pi (GSTp)
GSTP1; GST-P1; DFN7; FAEES3; GST3
编号

APB090Hu01

物种Homo sapiens (Human,人) 相同的名称,不同的物种。
缓冲液成份

20mM Tris, 150mM NaCl缓冲液(pH8.0, 含有1mM EDTA, 1mM DTT, 0.01% SKL, 5% Trehalose和Proclin300)

性状

冻干粉

纯度

> 95%

等电点

6.2

应用

Cell?culture;?Activity?Assays.

下载 英文说明书 中文说明书
规格 10μg50μg 200μg 1mg 5mg
价格 ¥ 1200 ¥ 3000 ¥ 6000 ¥ 18000 ¥ 45000
产品包装(模拟)

产品包装(模拟)
SDS-PAGE图

Figure. Western Blot; Sample: Recombinant GSTp, Human.
通过ISO 9001、ISO 13485质量体系认证
活性实验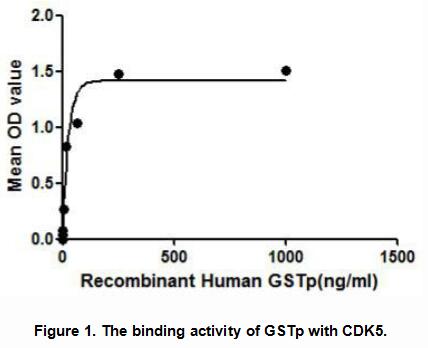 GSTp (Glutathione S-transferase P) is an enzyme that plays an important role in detoxification by catalyzing the conjugation of many hydrophobic and electrophilic compounds with reduced glutathione. GSTP1 is identified as a CDK5 (Cyclin dependent kinase-5) regulatory protein, and is thought to regulates negatively CDK5 activity via p25/p35 translocation. Thus a binding ELISA assay was conducted to detect the interaction of recombinant human GSTp and recombinant human CDK5. Briefly, GSTp were diluted serially in PBS, with 0.01%BSA (pH 7.4). Duplicate samples of 100uL were then transferred to CDK5-coated microtiter wells and incubated for 2h at 37°C. Wells were washed with PBST and incubated for 1h with anti-GSTp pAb, then aspirated and washed 3 times. After incubation with HRP labelled secondary antibody, wells were aspirated and washed 3 times. With the addition of substrate solution, wells were incubated 15-25 minutes at 37°C. Finally, add 50μL stop solution to the wells and read at 450nm immediately. The binding activity of of GSTp and CDK5 was shown in Figure 1, and this effect was in a dose dependent manner.
用法
Reconstitute in 20mM Tris, 150mM NaCl (pH8.0) to a concentration of 0.1-1.0 mg/mL. Do not vortex.
储存
避免反复冻融。2-8°C不超过一个月,-80°C不超过12个月。
稳定性
热稳定性以损失率显示。损失率是由加速降解试验决定,具体方法如下:在37°C孵育48小时,没有显著的降解或者沉淀产生。保?#21183;?#20869;,在?#23454;?#30340;条件下存储,损失?#23454;?#20110;5%。
参考文献
| | |
| --- | --- |
| 杂志 | 参考文献 |
| International Journal of Medical Sciences | Glutathione S-Transferase P1 Correlated with Oxidative Stress in Hepatocellular Carcinoma [PubMed: PMC3619117] |
| Mol Neurobiol | Human Glutathione S-Transferase Enzyme Gene Polymorphisms and Their Association With Neurocysticercosis [Pubmed:27021019] |
| Journal of Biomaterials and Tissue Engineering | 3D Printing of Differentiated Bone Marrow Mesenchymal Cells as a New Method for Liver Tissue Engineering [art00007] |
| Neuroscience?Bulletin | Comprehensive proteomic profiling of patients' tears identifies potential biomarkers for the traumatic vegetative state [Pubmed:30019218] |